I am one of the many people I consider to be a certified Plantito In the Philippines, Plantito or Plantita is a person who is addicted to plants. Whether indoor or outdoor, you will find their houses filled with a different variety of plants. It's a good addiction because it relaxes the body and mind. As for us, we loved collecting caladiums, alocasias, and calatheas.
Aside from collecting a variety of plants, another task that we must do is to maintain all of these plants and ensure that they are well looked after. Too much watering is not good; too much sun can burn their leaves, and insects or pests are always present to eat the leaves and roots, which may kill your plants. That's the problem we found recently, Aphids!
Caladium Bugs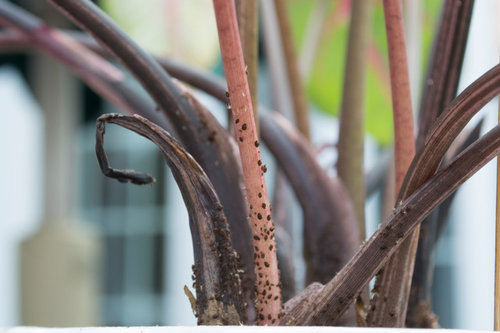 I always looked for new sprouts, it's exciting! But, I found out some plants were not growing healthily. Their leaves did not look healthy, and their stems were wilting. Then I looked closer and found out that there were insects attached to the stems and found out that we had an Aphid infestation going on. I became so bothered!  So, I immediately searched the internet what to do. We did not want to use heavily toxic chemicals because we have pets in the house, so I went looking for something more natural and found NEEM OIL!
Neem Oil for Plants
Neem oil comes from the leaves and seeds of the Neem Tree commonly found in the Indian sub-continent. What is amazing here is that it has natural insecticide and pesticide properties that can eliminate different types of insects and pests. After doing some research, I arrived at the conclusion that this is the one I want to use for our caladium aphids.
So, I went online and ordered it immediately. Remember to always order the Neem Oil Tonic because it's already mixed with a solution of natural soap. It makes it easier to mix with water.
How to Use Neem Oil (Tonic) on Plants
1. Add 10ml of Neem Tonic to 1 liter of water.
2. Use a suitable sprayer. Keep sprayer agitated.
3. Thoroughly spray infested plant surfaces, including undersides of leaves.
4. Repeat applications as needed at 7 days intervals.
5. Use spray solutions within 8 hours of mixing for maximum effectiveness.
6. Do not store diluted spray solution for later use.
7. Do not add other chemicals to Neem tonic solutions.
8. Do not apply to wilted, stressed, or newly transplanted plants before root development.
9. Apply in the morning before it gets really hot, so it doesn't burn the leaves or later in the afternoon just before it gets dark.
Does Neem oil works on plants?
Oh yes! After the first application, you can already see the aphids not moving at all. And the infestation is definitely more controlled. I also spray the soil with it, and it doesn't have any negative effect on the plants. What's good is that it is also safe for pets and birds. Just remember that these aphids may return, so you have to spray after 7 days constantly. Aphids went back after 2 weeks but not as much compared to the first infestation; at least I have neem oil to spray on them immediately! Now our plants are looking healthier, and new leaves are growing nicely!
Please follow and like us: